Acoustic Panels: Expert Acoustic Wall Panel Installation in New York
New York City thrives on sound, but that doesn't mean your office space should suffer; our Acoustic Panels offer the perfect solution. As leading experts in Acoustic Wall Panel Installation, we apply empirical acoustic engineering methods to deliver functional solutions for your distinct challenges. Our hands-on experience makes sure that our Sound Panels and Ceiling Baffles offer effective, real-world benefits.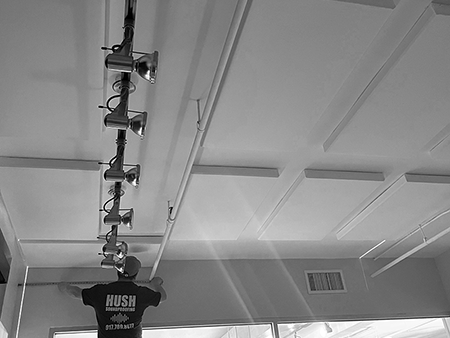 Acoustic Panel Types: The Backbone of Our Acoustic Wall Panel Installation in NYC
Mineral Wool Filled Acoustic Panels
Our Hush Panels filled with mineral wool are the go-to choice for effective noise reduction in a variety of settings. With a Noise Reduction Coefficient (NRC) ranging from .85-.95, these panels are framed in either wood or metal, making them both versatile and highly effective.
Mounting Panels: Your Choices in NYC
Acoustic Wall Panel Installation methods vary. You can opt for ceiling-mounted options using either aircraft cable or z-clips. The mounting choice is yours, and either way, you're guaranteed superior sound control.
Ceiling Baffles: An Elegant Ceiling Treatment for Echoic Clarity
Metal-Framed Ceiling Baffles
Ceiling Baffles serve a dual purpose—practical sound absorption and stylish design. Our metal-framed Ceiling Baffles can be set in a grid pattern or suspended via aircraft cables. They offer an NRC range of .80-.90 and blend seamlessly into your décor.
Ceiling Baffles: Where Style Meets Acoustic Wall Panel Installation
The aesthetic allure of Ceiling Baffles is undeniable. These functional yet stylish options bring more than just sound control to your spaces. They add an extra layer of design sophistication to any Installation.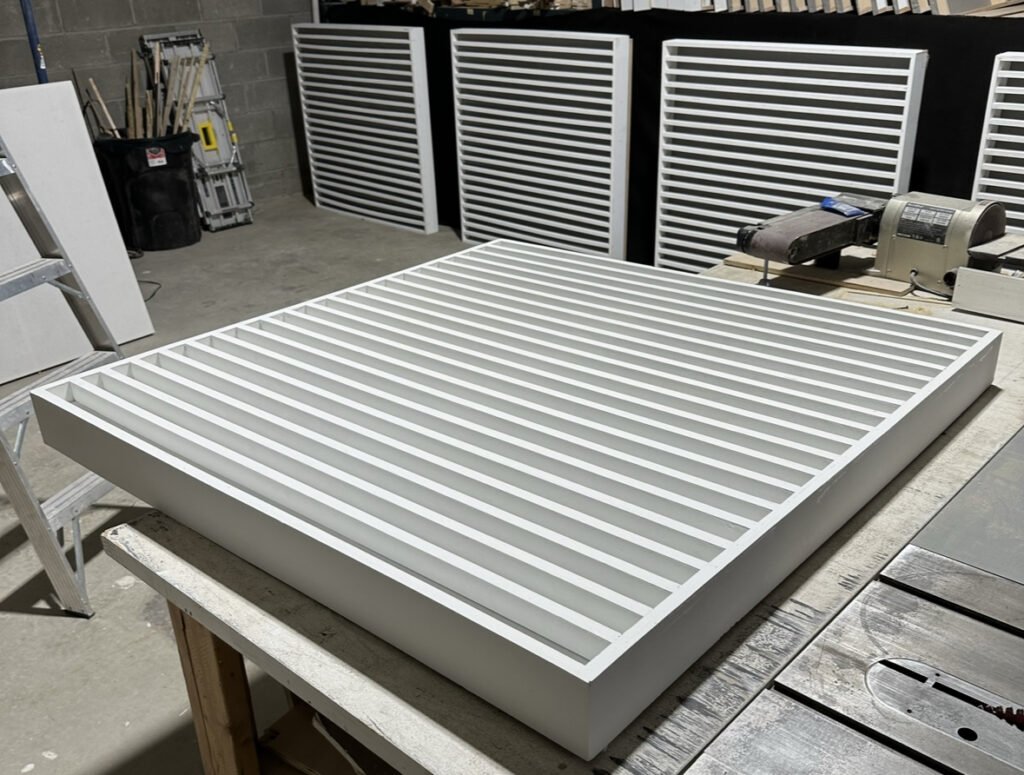 Slatted Diffusor Panels: Beyond Conventional Boundaries
Introducing our Slatted Diffusor Panels—a mix of wooden diffusers and 2″ compressed mineral wool fill. Covered in Guilford of Maine fabric, these panels offer an unparalleled NRC of .95-1.00. They not only manage sound effectively but also add an artistic touch to your space.
Summary
Opting for Hush's Acoustic Wall Panel Installation services in New York City means you're getting a precise, professional approach, deeply grounded in acoustic engineering expertise. We evaluate and develop treatments for each aspect of your environment, from Acoustic Panels and Ceiling Baffles to other architectural elements. The solutions we provide aren't just theoretical; they prove their worth in everyday settings.